Michael D. Eberth, J.D.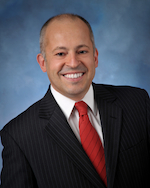 Michael D. Eberth is a partner with Nichols & Eberth, P. C. He specializes in all areas of family law including divorce, post-divorce disputes, custody and parenting time issues, paternity, prenuptial agreements and estate planning. Mr. Eberth has tried numerous complex divorce litigation cases involving child custody disputes, allegations of abuse, business valuations and fraudulent transfers of property. Additionally, Mr. Eberth's practice includes business law, business incorporation, contract and contract dispute litigation, environmental law, real estate (residential and commercial) and personal injury claims.
Prior to becoming a partner with Nichols & Eberth, Mr. Eberth was associated with Kitch, Drutchas, Wagner & Kenney, P.C. specializing in defense litigation involving environmental and corporate matters. His experience includes successfully defending a nation-wide sporting equipment manufacturing company against a liability of over $1,000,000 in a landfill clean-up matter; negotiating a settlement for a large retail sales client in a class-action matter; and negotiating numerous settlements for various clients with government agencies regarding alleged violations of local, state or federal regulations.
Prior to becoming a lawyer, Mr. Eberth was the plant manager for Reilly Plating Company, an automotive supply company. His responsibilities included overseeing all aspects of plant operations including customer service, production, maintenance and waste treatment. Mr. Eberth acted as the management representative in all grievance meetings, contract negotiations and arbitrations with the UAW work force consisting of some 100 employees.
Mr. Eberth has served on the Board of Managers, as Vice President and as President of the Detroit Branch of the AESF (the American Electroplaters and Surface Finishing Society), which is a world-wide, non-profit organization that focuses on educating its members in all aspects relating to this industry. Mr. Eberth has also served as Vice Chairperson of DICE, a non-profit organization that monitors the development and implementation of regulations that could adversely affect the business climate in the Detroit metropolitan area.
Currently, Mr. Eberth is a member of the State Bar of Michigan, the State Bar of New York and Dearborn Bar Association of which he is the past president. Mr. Eberth is also the Vice President of the West Dearborn Business Association, a non-profit organization that promotes businesses located in West Dearborn. Mr. Eberth is an active member of the Wayne County Foster Care Review Board, which consists of volunteer citizens who review selected foster care cases in Wayne County. Mr. Eberth also serves on the advisory committee at the state level for the Wayne County Foster Care Review Board. He is also the co-author of"As Is" Isn't Always What it Seems, Detroiter, March 1995, and assisted in the publication of numerous issues of the Michigan Environmental Law Journal.
Mr. Eberth earned his law degree from Wayne State University where he was the recipient of several Bronze Key Awards for scholastic achievement. Prior to obtaining his law degree, he earned a Bachelor of Science Degree in Chemical Engineering from the State University of New York and a Master of Business Administration in Finance, with distinction, from Wayne State University.
Mr. Eberth is married and has three daughters. He enjoys many outdoor activities with his family, is an avid reader and is involved in his community and with his church.
Areas of Practice
Auto Negligence
Contract Dispute Litigation
Corporation, Partnership & Agency
Divorce, Custody, Paternity
Post-Divorce Dispute
Personal Injury
Probate
Real Estate
Small Business Incorporation
Wills, Trusts, Estate Planning
If you would like to schedule a free initial consultation to discuss your matter, please call us at (888) 571-5700 or email us today. We serve clients throughout Southeast Michigan and Metro Detroit, with a focus on Oakland County and Western Wayne County.